Rigid Inspections, LLC is a full service residential home inspection company that serves the St. Louis Metro East area. Currently I perform home inspections in the following Illinois area:
Alhambra, Alton, Belleville, Benld, Bethalto, Breese, Brighton, Bunker Hill, Carlinville, Carlyle, Caseyville, Centralia, Coffeen, Collinsville, Columbia, Cottage Hills, Dorsey, Dupo, East Alton, Edwardsville, Fairview Heights, Freeburg, Gillespie, Glen Carbon, Godfrey, Grafton, Granite City, Grantfork, Greenville, Hamel, Hartford, Highland, Hillsboro, Holiday Shores, Jerseyville, Lebanon, Litchfield, Livingston, Marine, Maryville, Mascoutah, Milstadt, Moro, Mt. Olive, New Athens, New Douglas, O'Fallon, Pontoon Beach, Prairie Town, Rosewood Heights, Roxana, Shiloh, South Roxana, St. Jacob, Staunton, Swansea, Troy, Waterloo, Wood River, and Worden.
If you're town is not listed just contact me and I will be happy to work with you!
A little background about the company and myself, my name is Zac Knoblauch. I am a Certified Inspector through AHIT (American Home Inspectors Training Institute), licensed home inspector in the state of Illinois (license #450.011629) an ASHI Inspector (American Society of Home Inspectors, Member #260507) and certified inspector with InterNACHI (International Association of Certified Home Inspectors).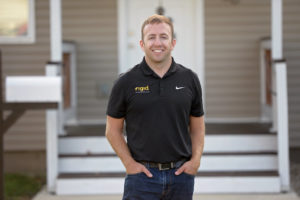 I follow the Illinois Standards of Practice during my home inspections. I encourage my clients to read over these standards before receiving an inspection, it will help you understand what I inspect and the inspection process. It's always great to know these and come with any questions if you have them.
In my spare time I am a volunteer firefighter and emergency medical responder for Cottage Hills Fire Department. I enjoy being outside, riding my motorcycle, grilling, swimming on the lake, playing golf and shooting at the range. I am very much so an outdoors type person.
For a complete and detailed list of the services I offer, please visit the services page.